The Fish Trax™ system offers a significant benefit that is not available in "off-the-shelf" systems:  It can be fully customized to meet the specific needs of the user.
The basic system consists of a foundation database from which individual input and output portals are built. Because the entire system is web-based, the system does not require you to install specialized software.
Our products range from a simple system with one or two input/output portals to a fully-integrated system with many portals serving several objectives. One piece of collected data can be used to support a variety of output portal services, whether it is for fishermen, fishery managers, scientists, educators, or the consumer. Our services are comprehensive, ranging from design and implementation of traceability and tracking systems, to expert consultation and collaborative research projects. Through our development partners, we can also help you find capital to help finance your project.
Specific Fish Trax™ system features include:
A Robust Database
The database is the foundation for all other Fish Trax™ applications.  You tell us what you need from the project; we then use our expertise to develop a secure database that contains all the information you need for your project.
Entering the data
Fish Trax™ provides secure online web portals to enter data easily into the system.  Depending on your needs, we can design a portal or portals to upload data automatically or to enter it manually.  Because everything in our system is web-based, you can gain access to your portal(s) from any device that's connected to the Internet.
The Port Liaison™ Portal  gives fishing organizations a convenient and dependable way to upload harvest data dockside.
The Lab Portal™ allows scientists to upload technical data into the system
Administrative Portals™ allow administrators of various projects to enter data to manage projects
Viewing and Analyzing the Data
It is through the Fish Trax™  output portals that the vital information that resides in the database can be viewed and analyzed to meet the needs of specific users.
The Fishermen's Portal ™ is an easy-to-use secure portal that allows an individual fisherman to review and explore his/her own data through visual mapping and tabular functions. Through this secure portal, individual fishermen can see their own data; others do not have access to it.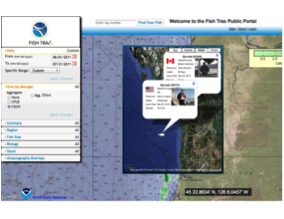 Through various search/sort features, such as time period, size of fish, area fished, fishermen are able to review and deploy the data to meet their needs.  Additional features include oceanographic overlays (sea surface temperature, phytoplankton levels) plus other features that help fishermen increase their ability to fish cleanly and efficiently.
Fish Trax™ Fisheries Management Portal – The Fisheries Management Portal is an outlet for fisheries managers to query and examine aggregate data to help inform management decisions in real time and near real time at the state and federal fisheries management levels.
Fish Trax™ Public Portal– The Public Portal provides access to aggregate fish catch data, and also supports traceability components of Fish Trax™ (Find Your Fish). The Public Portal can serve to educate the general public and others about the fishery – both about the fish and about the harvest of those fish. To see the Public Portal for the West Coast Salmon GSI project, click here.Fish Trax™ Science Portal– Much like the Fisheries Management Portal, the Science Portal is an outlet for authorized scientists to review and analyze collected data to meet the objectives of various research projects.
Fish Trax™ Education Portal – Similar to the other Fish Trax output portals, an educational portal can support public education activities geared toward K-12 and high-level students alike.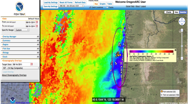 Fish Trax™ Traceability Services- If the need is to provide a tracking system for a fishery to provide traceable marketing information for the end user and consumer – from whole fish to fillets; Fish Trax™ can design and implement a system that meets those specific needs.  We also consult with and connect you with marketing experts to help you reach your full marketing potential.Fish Trax™ provides ongoing maintenance and customer support through annual service contracts.For more information about how the system could work for you, please contact Fish Trax™ at info@fishtrax.org or 541-265-4484.