The Fish Trax™ system is a leading-edge electronic fishery information platform that revolutionizes the way fisheries information is collected, analyzed and shared.  Envisioned initially by fishermen and scientists to track important resource data, Fish Trax™ has now expanded to serve as a tool for the seafood industry, allowing managers, scientists, regulators, and marketers to collect data and collaborate on ways to improve sustainable management practices.
Fish Trax™ maximizes the usefulness of collected data, eliminates redundant systems, and promotes efficient exchange of critical information.  Fish Trax™  brings 21st century technology to fisheries managers, scientists, and marketers.  It is based on the recognition that fishery management relies on the real-time cooperation of scientists, managers, and industry to sustain fishery resources.  Its design helps industry and managers move from reliance on highly lagged and outdated data to information representing real-time events.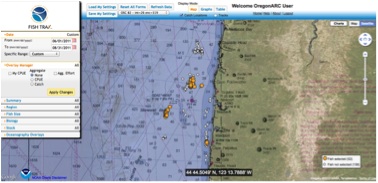 How it Works:  At the heart of the Fish Trax™ system is a secure and robust database. Through the use of specially designed and easy-to-use "portals," the client can securely input and export data and information to meet the needs of a variety of audiences.  The portals are designed with unique features to help translate raw data into valuable knowledge that help users maximize their real-time business, management, marketing, and purchasing decisions.
Different portals can be added to the system over time – if  an individual is interested in marketing and traceability to start, then the appropriate portals can be designed to support those activities.  Over time, the same information can also be used to support science and management activities; specific portals can be added later to fit the specific needs of the client.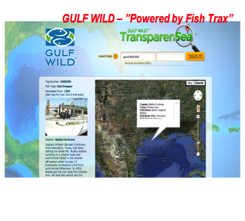 In this way we can distribute information in real time and near-real time and efficiently maximize the value of the individual data collected. Each piece of collected data has importance to a variety of audiences from science and fisheries management to marketing and education.  The same information can be displayed in a variety of formats that meet the needs of distinct audiences.